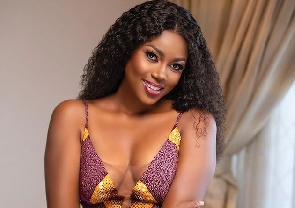 Actress Yvonne Nelson says she's confused on which party to join as she laces her boot for active politics.
The actress who has a dream of becoming a great politician to impact lives in the country made this known when she spoke in an interview with Accra-based Citi FM monitored by MyNewsGh.com
She mentioned that she wants to be a politician who will solve the problems of the masses but then she needs to align with a political party and that has been her headache.
But noted that all the politicians in the country do is to tell lies and cheat the masses who vote for them during elections
Using the NPP and NDC as a basis, she disclosed that they've over the years promised Heaven on Earth but have delivered nothing close to that.
"Politics is very dirty. Politicians lie. What they do is like tell lies and win elections then keep fooling the people. I don't know if I can do that because they say Yvonne you can't do politics. So will you be an independent candidate or what? I don't know but I guess when the time is right I know what to do.
I know I really want to help society, I know I really want to be that change and impact society but then you need to align with one of these guys and I don't know which of them, that's where it gets confusing, I won't lie about it because we've all seen and we've been in this country and heard all the promises from both parties and we know what's happening on the ground so that's where the confusion is".